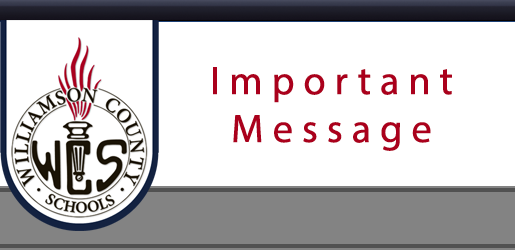 General Information
Welcome to Williamson County Schools online application system for Out-of-Zone Requests.
All out-of-zone students must have approval granted through the Planning & Zoning Department.
Out-of-zone approvals are granted for continuation through the highest grade level at that school. A student attending an open zoned school may continue to the next level of the feeder pattern unless the transfer would result in overcrowding or oversized classes or unless denied by the principal for failure to follow school procedures.
All out-of-zone applications must be signed by the zoned school principal and the out-of-zone school principal, with the exception of applications covered under the grandfather policy. The grandfather provision requires the out-of-zone principal's signature only.
Grandfather Provision: Applicable to rising 5th, 8th, 11th and 12th grade students who have moved to a new Williamson County residence and have lived in zone for 12 consecutive months and rising 5th, 8th, 11th and 12th grade students re-zoned due to the opening of a new school or the rezoning of an existing school.
A student residing in Williamson County may enroll in another Williamson County School District school if the parents provide to the principal prior to enrollment a copy of a bona fide contract and other supporting documentation of their intent to move into that transportation school zone within the current school year.
Both resident and non-resident children of Williamson County Schools' full-time employees are eligible to attend a school within the feeder school of the employee's work assignment. Non-resident employees must pay the employee tuition rate.
No transfers from one county school to another will be permitted during the school year.
When completed form is submitted, parent will receive a copy of the out of zone request which will include the date and time stamp.
APPEALS: Follow these steps to request an exception to the Williamson County School Board policy 1.703 as summarized above:
Routine procedure to request out of zone approval.
Completed out-of-zone request form, with both principals' signatures, sent to the attention of Allison Nunley; allisonn@wcs.edu or Williamson County Schools, 1320 West Main Street, Ste. 202 Franklin, TN 37064, along with a letter from the parent specifying detailed reasons for the appeal. Include all documentation relevant to support a curricular and/or documented need.
The Appeals Committee shall meet as needed, with written notification of the decision(s) being provided to both the parent and schools involved.
The decision of the Zoning Appeals Committee is final.
All requests will be checked for accuracy. Any falsification of information may result in your request not being processed.
*Please also note that this website is optimized for IE 10.0 and higher, Safari, Chrome and Firefox.
Information for Out-of-Zone Applications:
This is an official application. The information contained on this online application should be considered private.
NOTES:
Parents are required to complete

one application per child.

Parents are responsible for transportation to the Out-of-Zone school.

Submit ALL of your required documentation at one time, if required.

You will receive emails from (scribonline@scribsoft.com) to notify you of the status of your application. It is important you read those emails carefully as additional information may be required to process your request.
---
For More Information, Contact:
Williamson County Schools
Planning + Zoning Dept.
1320 West Main Street
Franklin, TN 37064

Phone: (615) 472-4000
For Technical Support, Contact:
Scribbles Software
Email: help@scribsoft.com
Phone: 855-465-1458
---
Business Hours
Monday - Friday
8:00 AM - 4:30 PM